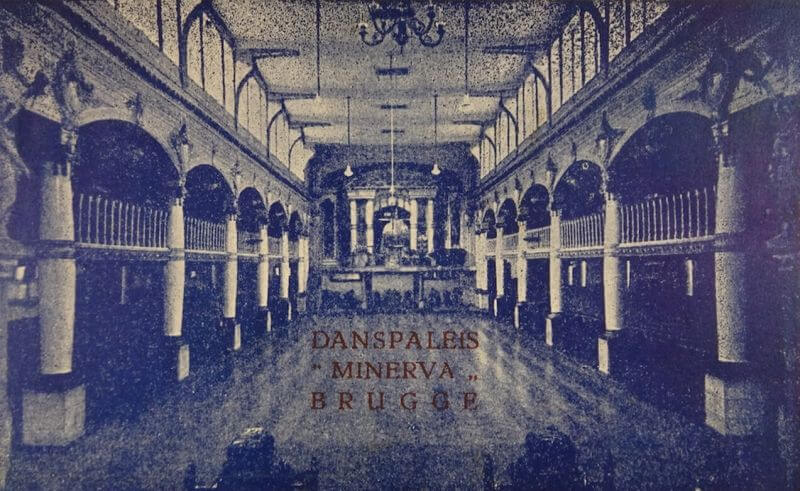 Rudy Nijs drew our attention to a publicity card of dance hall 'Minerva' in … Bruges (Smedenstraat 18). On closer inspection, this hall housed the Mortier organ that was originally built for the Antwerp dance hall 'Minerva' (see p.60 in the book 'The Mortier Story'). The dance hall in Bruges was opened in 1920, so the organ was presumably sold to Bruges around that time. It is unclear, though, if there was an actual relation between both dance halls.
It is striking that the façade of the instrument was reduced in height to make it fit into the dance hall in Bruges. Other aspects of the façade were also altered - the metal trumpets were made prominently visible! It is possible that these changes were made by the Mortier firm itself, and even that the firm bought the organ back from the Antwerp dance hall and sold it on to Bruges.
It remains unclear what happened to the organ. In 1957, the dance hall in Bruges was converted into a bioscope ('Capitole') and the organ was certainly removed from the hall at that point. The central figure certainly went to collector Jean Staelens in Waasmunster – it's quite possible that he used parts of the organ itself for use in other instruments.
The photo below was published with kind permission of the City Archives of Bruges: Stadsarchief Brugge – www.erfgoedbrugge.be (BRU003042103).